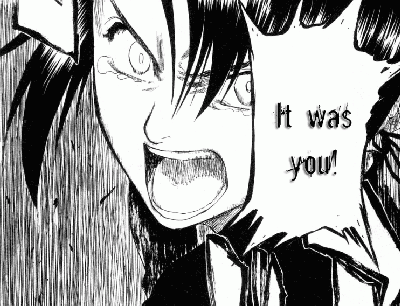 Hinamori suffers an episode of Crazy-Eyed Antics.
-
Bleach
Chapter 101, by Kubo Tite
This term describes a situation in which a female character possesses some sort of power comparable to or greater than that of male characters, and her possession of this power is shown to be toxic to her and to those around her.
The power in question might be psychic or magical powers, martial arts skill, political power, wealth, business acumen, skill at sports, cooking skill, board game skill - or any other sphere which a sufficiently motivated manga artist might attempt to transform into a competition. "Power" can also apply to simple self-confidence, particularly in conjunction with a lack of romantic interest in or rudeness to a male character intended to be sympathetic.
The toxicity of power commonly manifests itself as a lack of self-control or self-knowledge on the part of the female character. In its classical form, lack of self-control leads to Crazy-Eyed Antics. This is when a woman who had appeared emotionally stable earlier in the narrative - at a time when she either did not possess her power, was not exercising it, or was not exercising it to its fullest extent - opens her eyes wide and develops dark circles under them as an accompaniment to destructive behavior. When engaged in Crazy-Eyed Antics, a character is as much as or more of a danger to herself and her loved ones than she is to her enemies. Beloved childhood stuffed animals should be stored in a safe place during episodes of Crazy-Eyes.
( Common triggers for Crazy-Eyed Antics include: )
More examples requested! (Also, is there a TV Tropes entry with a similar premise to this?)
Edit:
Please note that there are major spoilers for the end of
Avatar: The Last Airbender
at the bottom of the Dreamwidth comments!